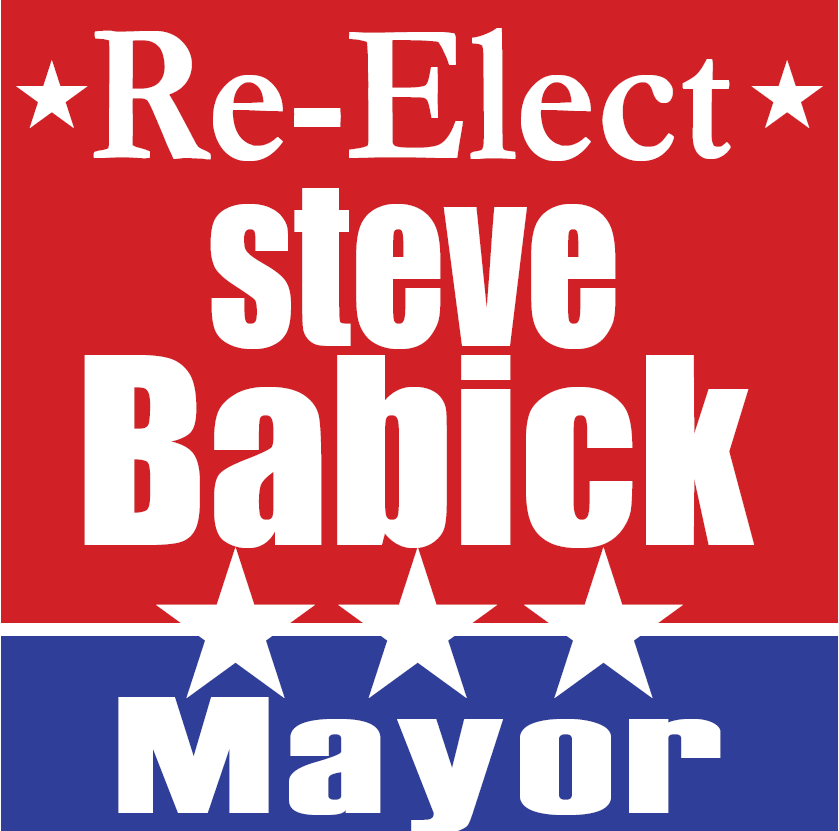 #StandWithSteve
Election Day May 6
(Early Voting April 24-May 2)
A Servant Leader from a Family of Volunteers, I have been honored to serve as Mayor since 2022 and Councilmember since 2014 (2014-2017 & 2018-2022). My Work is NOT DONE!
My Priorities - "The Basics"

My Key Initiatives - The "Big Ideas"

Why Steve?

Pd Pol Adv: Babick4Carrollton Campaign for Mayor; Peggi Babick Treasurer; 3705 Canon Gate Circle; Carrollton TX 75007
News
Monday, May 9, 2022 12:15 PM
Babick elected Carrollton's 36th Mayor
Steve Babick was elected Mayor on Saturday, May 7, 2022 for the City of Carrollton. Find unofficial results as posted by the City here: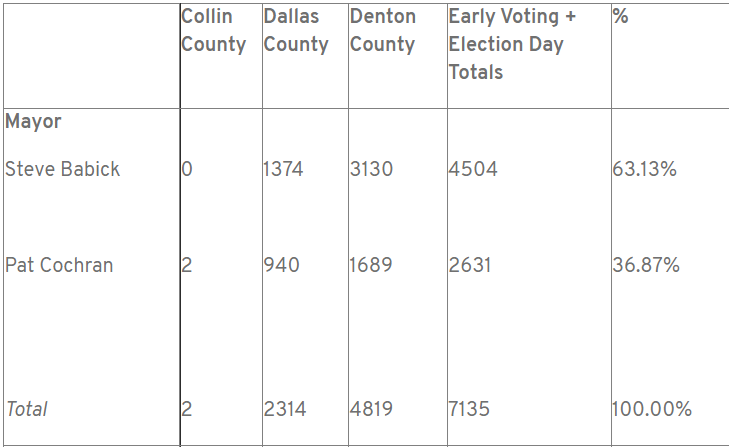 ---
Monday, April 11, 2022 9:19 AM
AAGD Endorses Steve Babick for Mayor of Carrollton - Experience Matters
The AAGD Today announced their Endorsement of Steve Babick in his pursuit to become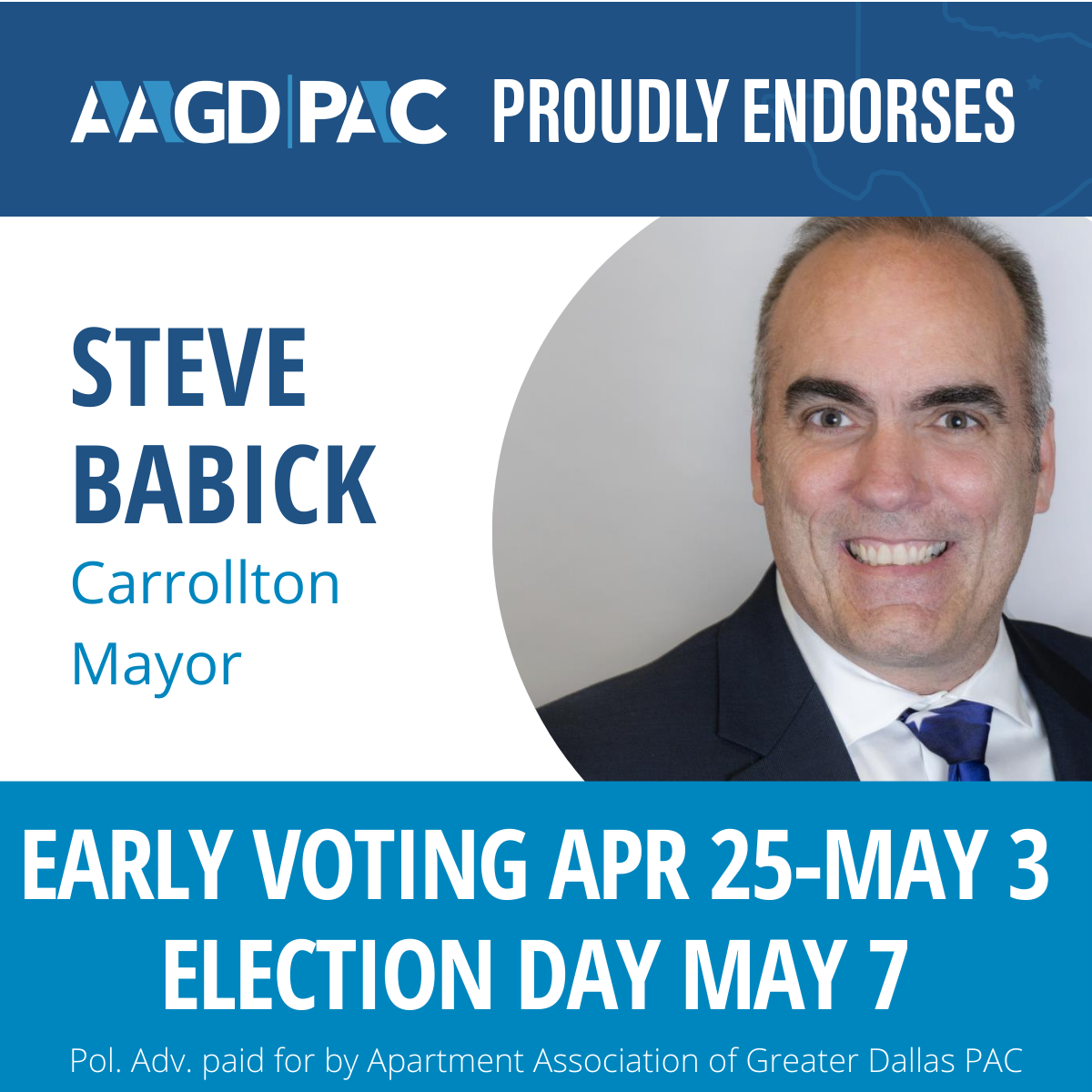 the next Mayor of Carrollton. Citing Steve's strong Record, Results and Leadership on Council and his unmatched Experience, the AAGD provides the unequivocal endorsement and support to maintain the continuity and momentum in delivering against the bright future Carrollton has chartered a course.
---
Sunday, April 10, 2022 9:28 AM
D3C Endorsement of Steve Babick for Mayor of Carrollton
The Denton County Conservative Club is pleased to announce the Endorsement of Steve Babick for Carrollton Mayor in the May 7, 2022 Election. Steve's vision, Proven Leadership and Record of Results places him as the clear choice for Mayor.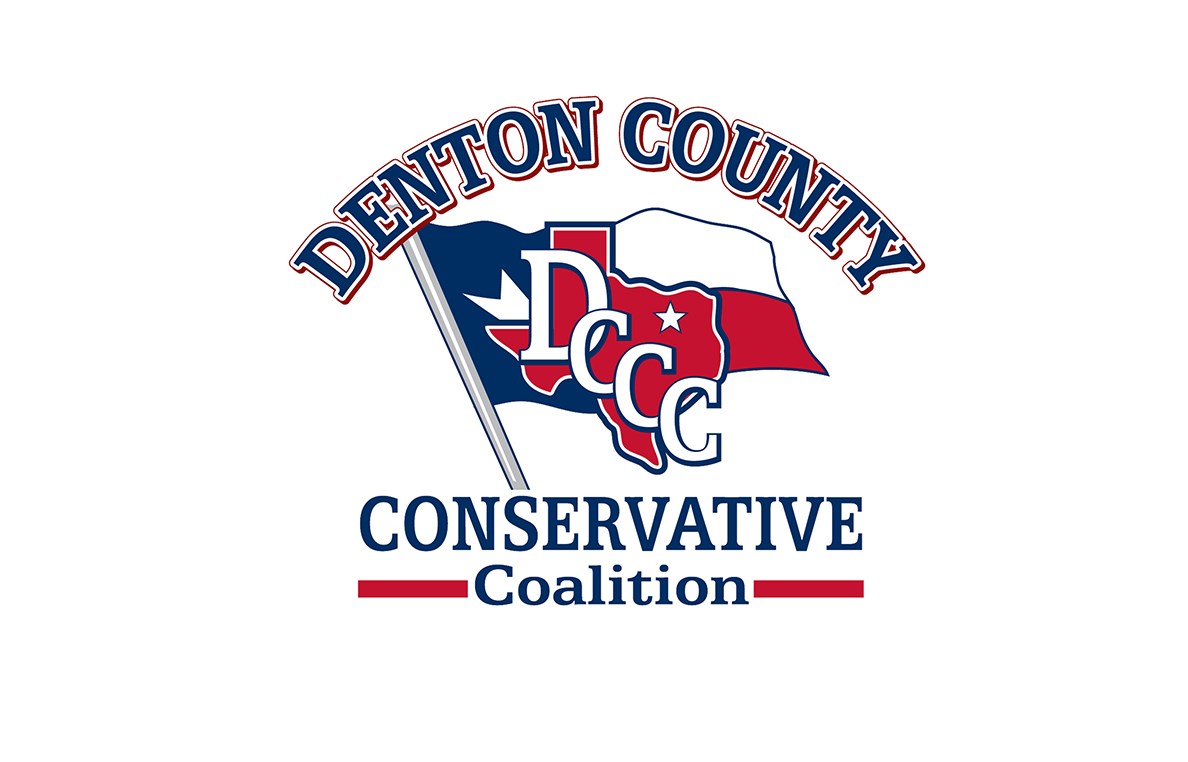 ---
Thursday, April 7, 2022 10:29 AM
Dallas Morning News Recommendation: Endorses Steve Babick for Mayor of Carrollton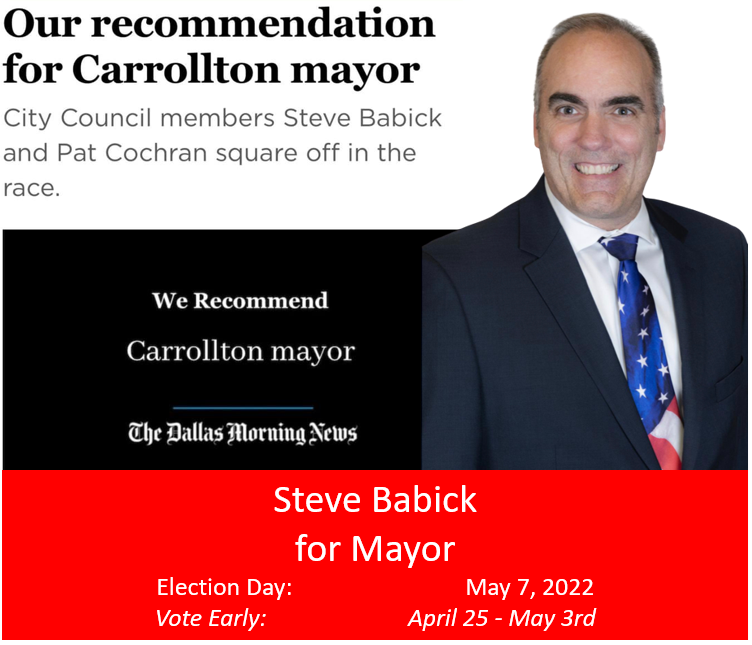 The Dallas Morning News today cited Babick's experience and "...pulse on the issues that matter most..." in addition to his hands-on command of details and focus on Redevelopment, Economic Development and North Dallas crime concerns as driving the recommendation... Read the full article <here>
---
Friday, March 18, 2022 10:31 AM
Carrollton Fire Fighters Association #FirstResponders Endorse Steve Babick for Mayor
The Carrollton Fire Fighters Association, providing the First Responder Endorsement for this May 7th Election, have tapped Steve Babick as their choice for Mayor of Carrollton. The Selection process includes a panel interview and third-party consultative diligence on each candidate as to their record, aptitude to lead the city and Vision for the future.
The Association proudly endorses Steve Babick for Mayor based on the following:
Proven Prior-Record on Council
Experience to lead an otherwise Junior City Council
Mastery of the City Budget Process
Priorities for Carrollton and Vision for the Future
Strong position on Public Safety